X5 bitworker
by admin —
last modified
2019-07-30T13:52:14+01:00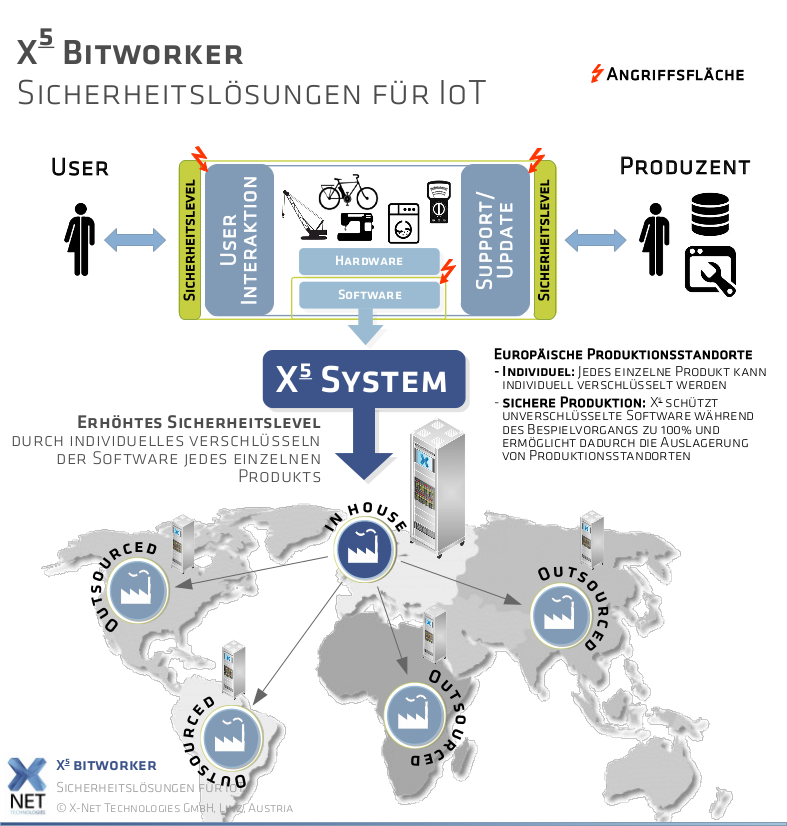 X-Net Technology GmbH has developed the copy system X⁵ to protect
_ the software of products, 
_ the know how of companies producing this software and
_ the production of data carrier containing these software components.
X⁵ solutions copy personalised and product-specific data on data carriers in a secure and error-free way. They are integrated in mass production environments. Simple handling and thought-out processes support the implementation of overall security strategies for products complying with principles of Internet of Things (IoT) to meet future requirements.
Project Description
Increasing digitalisation enables the settling of new features, the satisfying of (individual) customer needs and competitive advantages provided by the integrated software on the one hand. On the other hand, challenges like remote support over the product life cycle, updates and upgrades of the products have to be considered. Manipulation, reproduction, misuse of remote support or unintentional access of the customer not only cause fault but may turn into threats to existence. Security strategies that consider the production lines as well as the whole life cycle of products over long term periods are needed. 
X⁵ is designed to handle the complex requirements of producing companies and considers secured communication, authentication and encryption. Combination of software and hardware components allow individualisation of security strategies and enable the production of 1:1 copies in-line or outsourced to third party manufacturers and further on the integration of secure life cycle management strategies.
X⁵ addresses producing companies
needing secure solutions to integrate software with high added value in a product
wanting to outsource the recording and assembling of data carrier or
using online connections to communicate with a product, update it or activate further functionalities.

Key Data of the Project
Project start: December 2016
Project duration: 6 months
Funding Framework: SME Instrument Phase 1

This project has received funding from the European Union's Horizon 2020 research and innovation programme under grant agreement No 745114.