Research/Hardware
by admin —
last modified
2020-04-24T10:53:16+02:00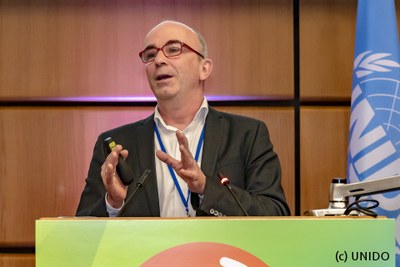 REsearch, Innovation and Security
Being one step ahead of the state of the art - innovative project approaches can only emerge through cooperation.
---
« In our work we combine creativity with craftsmanship. Research projects, networked thinking, cooperation across companies and institutes are our arts and crafts with which we create new solutions together with our customers. »
There is a solution for every problem and every task. However, this solution can hardly be found on its own, only the joined exchange leads to new perspectives and the first step in the right direction. 
Depending on requirements and complexity we come back to our partners in the areas of electronics, programming of FPGA, machanical engineering etc. to plan and realise suitable hardware and software solutions. If we are dealing with longer-term development goals for which state-of-the-art technologies are not sufficient, a research project is the way to go.
Project ideas and new project approaches result from our close cooperations with customers and suppliers. To implement innovations, we have an extensive network of specialists from research and industry. Depending on the requirements, we initiate collaboration projects with the fitting partners.
Output of the realised projects is a new state of the art, which is again basis for further developments and enhancements of products and services. Depending on the area of research and the project scope, we collaborate with up to 16 project partners and ccordinate projects with a volume of 1 million EUR.
With our projects we address different topics. The following list gives an overview of realized and current projects.
The aim is the research and development of a platform architecture, which (1) decentrally determines suitable systems as well as suitable service provisions for assigned assignments, (2) supports customers and contractors until the actual occurrence of a business, without carelessly publish data or disclose business secret (secure anonymous auction service through Multi-Party Computation) and (3) to ensure through the integration of blockchain technology the traceability and required transparency for the acceptance of the use of the action service. »
IVolunteer
According to the motto »I AM what I DO« a digital platform for the utilization of informal competencies, which are acquired through voluntary engagement, will be developed. It results in voluntary specific "digital competence passes" with the aim to visualize existing competencies and to ensure long-term the engagement of volunteers.
With the help of an automated detection of a) fraudulent fake-shops and b) harmful Android Apps an improvement of the cybercriminality-prevention should be achieved. The aim of the MAL2 project is to develop an open source framework, which makes a functional support in the data extraction of the feature creation, in the training and as well as in the analysis of the results possible. »
X-Net Technology GmbH has developed the copy system X⁵ to protect the software of products, the know how of companies producing this software and the production of data carrier containing these software components. X⁵ solutions copy personalised and product-specific data on individual data carriers in mass production in a secure and error-free way. Simple handling and thought-out processes support the implementation of overall security strategies for products complying with principles of Internet of Things (IoT) and Industry 4.0. »
The "Smart-City-Demoproject" demonstrates the current state of technical feasible by the interaction of many measures from different scientific, public and economic areas. With the energy autonomy-platform not only the success and the achievement of the project will be measured, also a evaluation toll for the energy automony of Korneuburg will be created. »
The online platform ZAUM links Upper Austrian creative people with producers and gives them the possibility to present themselves together. The users receive a simple tool to find producers, but also other creative people, quickly and easily. Producers are given the opportunity to discover and realise interesting ideas. »
Non-profit organizations, open source communities or cooperations of companies are characterised through activities that participants mostly provide honorary. The research project CrAc developed a proof-of-concept prototype that supports the collaboration of protagonists in volunteer organizations. »
The project addresses the structured administration of the inheritance of the own digital identity. On the one hand, the personal data has to be protected against unauthorized access. On the other hand, the Themis platform should allow the transfer of the digital heritage to the defined heirs avoiding any misuse. Therefore, the administration of access keys and the long-term archiving of data are important parts in the development of Themis. »
The project within the framework of security research aims at the protection of employees and data of puplic institutions. The developed solution protects sensitive and citizen data, which are keeping safe by public institutions against loss and (un)wanted misuse.»
In the context of a cooperation project we developed an innovative emergency alarm system, which works without any batteries and an external power supply. At the same time, it can be used anywhere, regardless of the initial structural situation, without any additional installation effort or structural adaptions.»
The platform SNOGG.ME offers local and regional musicians with low popularity the chance of distribution of their productions. SNOGG.ME offers musicians the production of single copies of their CD. Furthermore, musicans can present their CD on the platform and offer it for sale. This service is free of costs. The production of the CD will not start until there is an order, no matter if it is the order of a fan or of the musician by himself. The costs for a production are automatically offset against the selling price. Musicians do not have to invest any money in advance. SNOGG.ME handles payment and distribution and allow musicians to concentrate on making music.»
The modular parabolic trough power plant consits of serveral components that provide data. A web interface allows the inquiry of data and reports. Data can be retrieved directly at the parabolic trough or at Austria via VPN. Besides the access to the established data, also the controlling of the parabolic trough can take place manually over the web interface. The computer network of the parabolic trough is construed, so it can be used as information junction at the same time. The individual modules can be connected over Ethernet. Module groups can furthermore be connected to power plant cluster over wireless LAN. The interfaces are designed that the information junction can offer access to the internet for neighbouring regions, e.g. over wireless LAN. »
The development project idea of the DiscMaker system arised already in the year 2007. From different customer projects various requirements have been resulted, which did not cover the available CD/DVD/BD-Robot systems on the market. The vision of a robot system with several printing systems, air conditioning and a high throughput assumed a concrete form and also the necessary partners and competencies, which are necessary for the development of such a complex system, could be determined.»